My Trip to the San Francisco Pen Show (2023)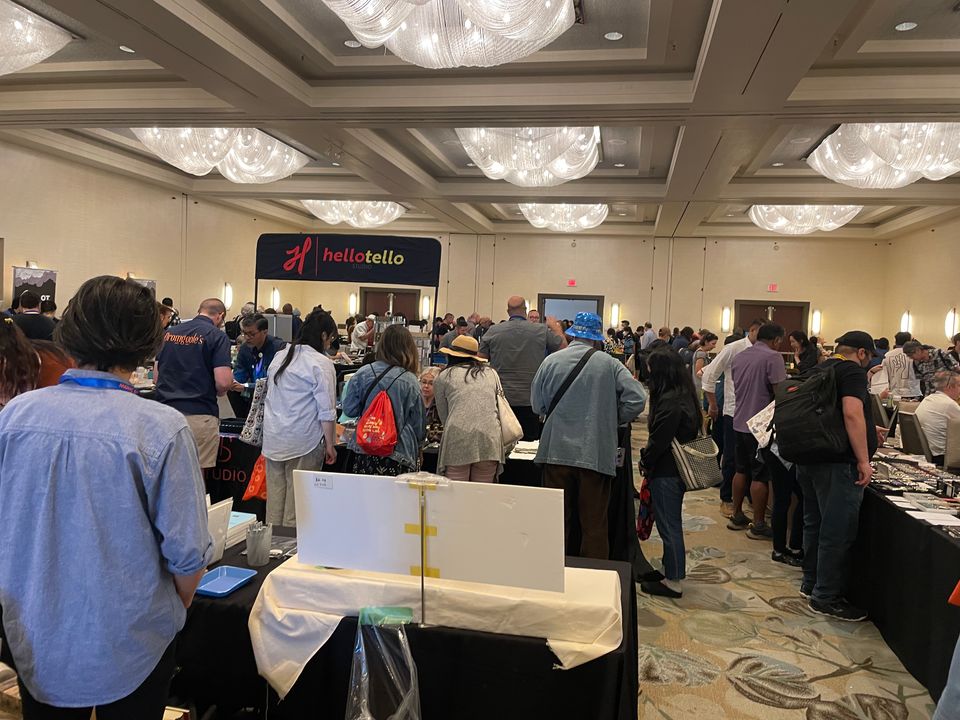 Hey everyone!
Last weekend, I attended my first pen show in San Francisco, which was quite intimidating. I was busy doing schoolwork and was unfortunately forced to attend on Sunday, so I missed out on meeting some of my favorite creators in the community. However, it still was great, and I loved being around others who were also into fountain pens.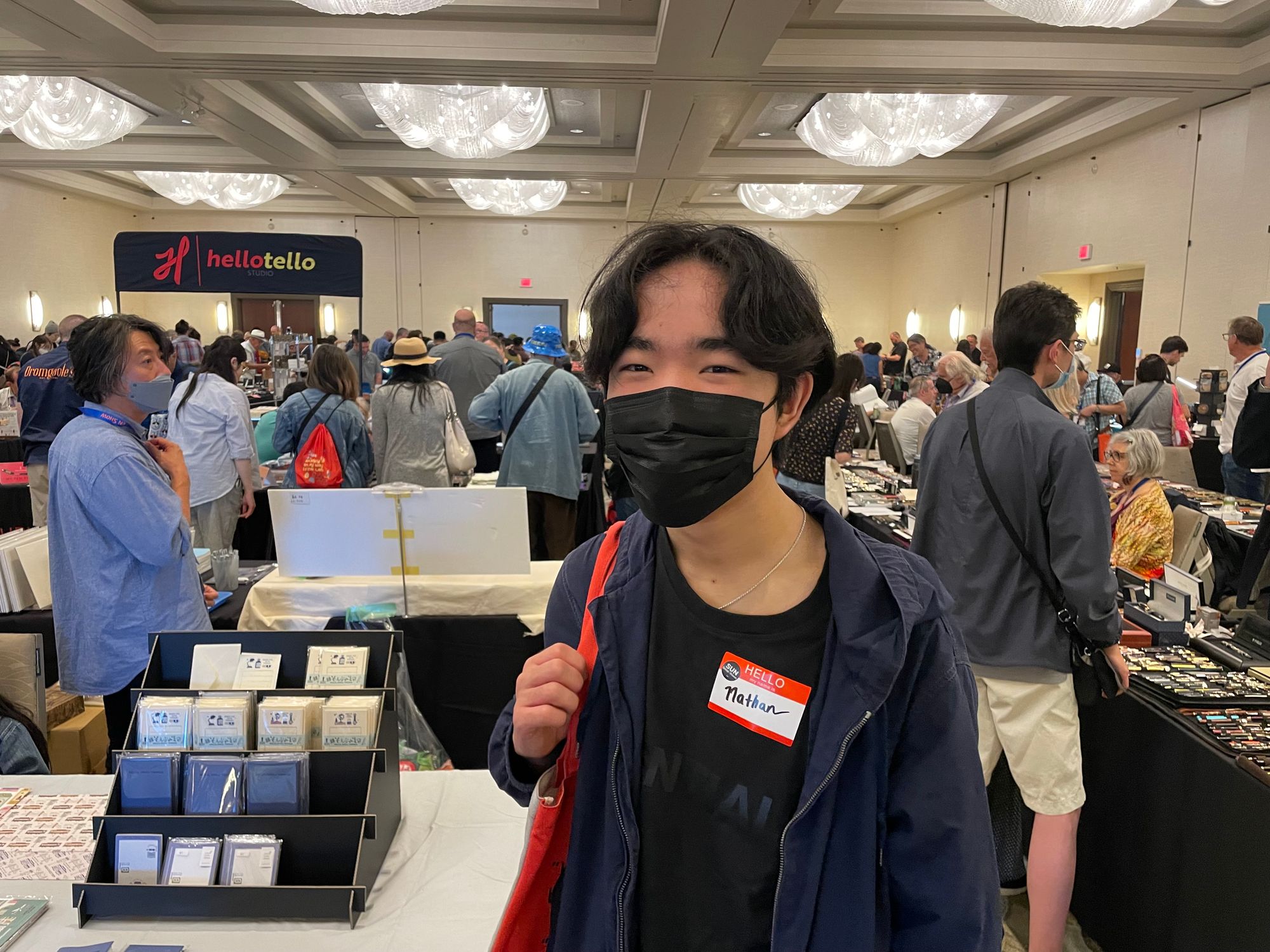 The entrance fee was $10 per person, which is definitely reasonable considering the fact that the organizers were giving out free Colorverse inks in the SF Pen Show exclusive "Golden Gate" color. To redeem one of the 200 free bottles on Saturday and Sunday, you needed to collect at least seven stamps from sponsors of the show.
I ended up getting two bottles of this exclusive color, and I absolutely love its shade. It's a gorgeous, dark red that I'm planning on using for making corrections (see near the bottom of this post for pictures of the ink).
I'm honestly surprised that the show had remaining bottles when we arrived and finished collecting stamps at around 11 a.m. There were so many people, so I thought the bottles were all gone, but I was pleasantly surprised that they were still available.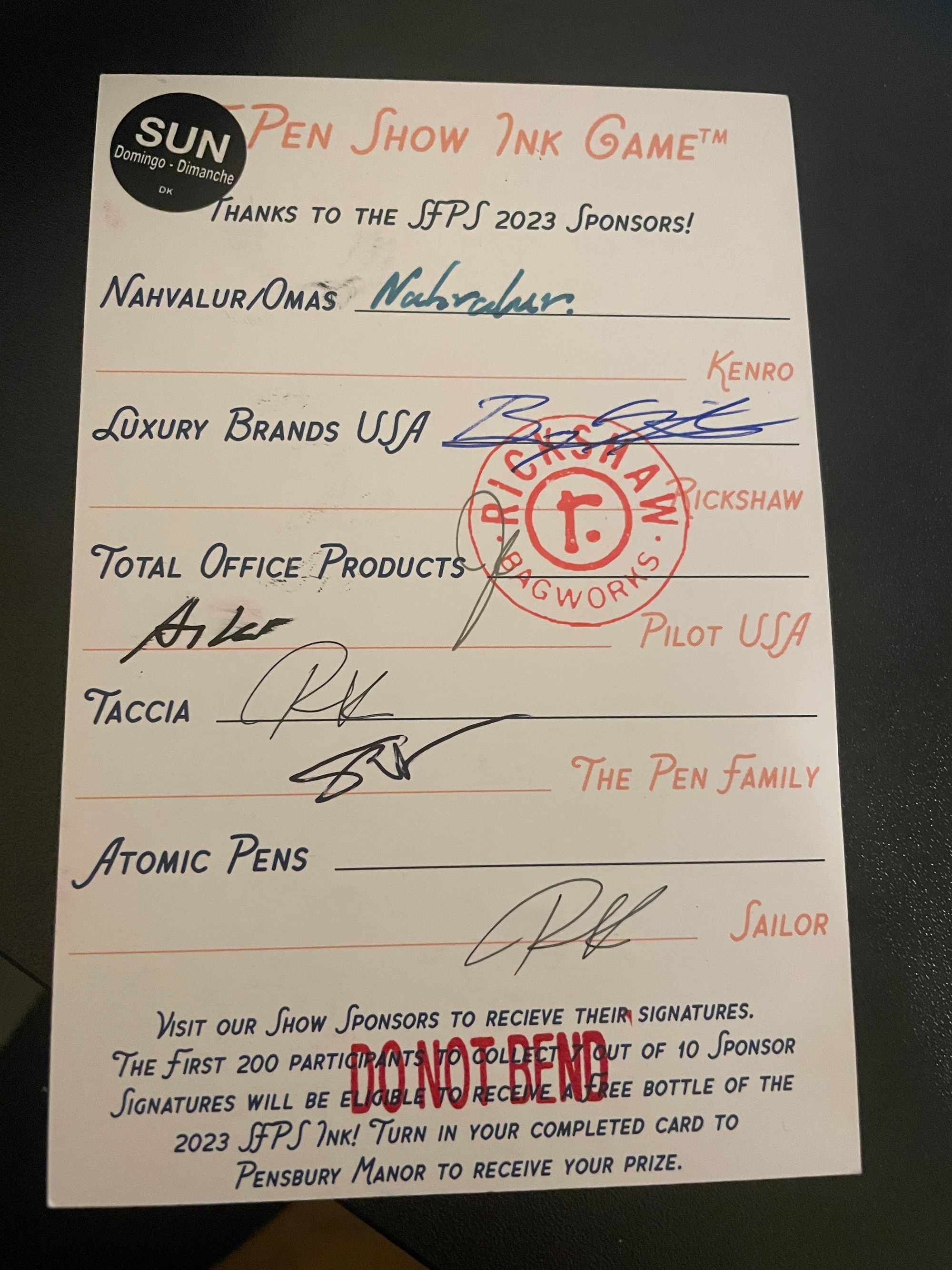 All the people I interacted with were pleasant, and I bought a few things that caught my eye.
My first purchase was this Traveler's Company style notebook with ink bottles printed on it. It was $35. I initially hesitated to buy it, but after doing some laps around the show, I decided to proceed with my purchase. I believe you can refill it with Traveler's Company refills, but I'll have to check online before I do so.
It's made of a faux-leather material, which is fine considering it's not as expensive as an original Traveler's Company notebook. This notebook is pretty high quality, but close inspection reveals a smidge of print imperfections on the cover. Again, it's not a deal-breaker, especially since the notebook came from a small business, but it's something to note.
I bought this notebook at inkyconverters, and my experience was Angela was great. She was helpful, and her artwork looks amazing. From what I see, it's an Etsy shop, so if you're interested, you can order one of her items online.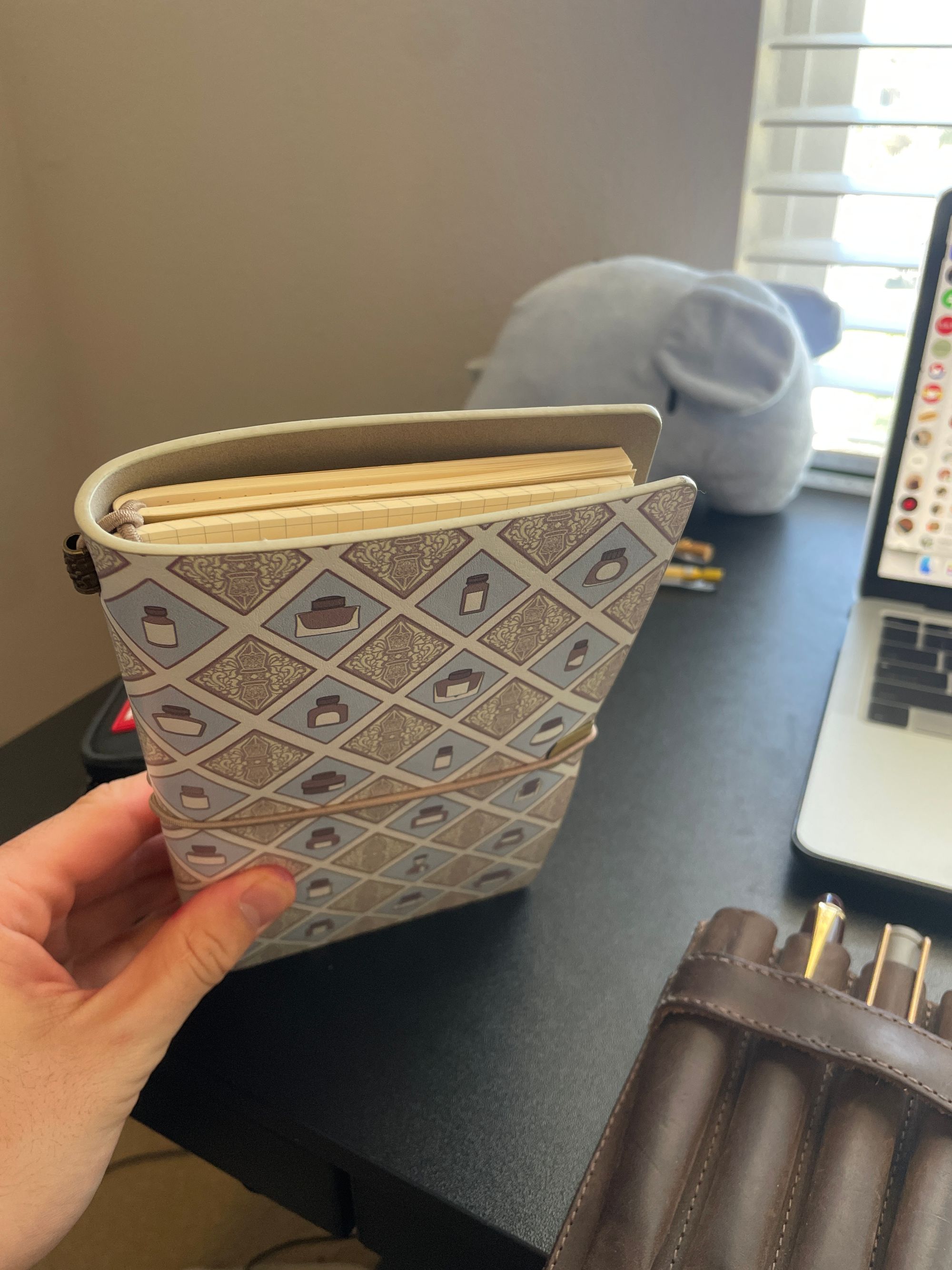 The next thing I bought was an obligatory fountain pen. After spending $35 on a notebook, I decided to cut back on my spending and gave myself a budget of $30 for a pen. After looking through tables and tables of vintage pens, I found this marbly blue pen that caught my eye at a booth near the nib grinders. It's a Fountain Pen Revolution pen with a flex nib, and it was selling for $20. The temptation to try out a flex pen won, and I nabbed it up right away. Unfortunately, I don't remember the exact name of the vendor, but I had a pleasant experience there.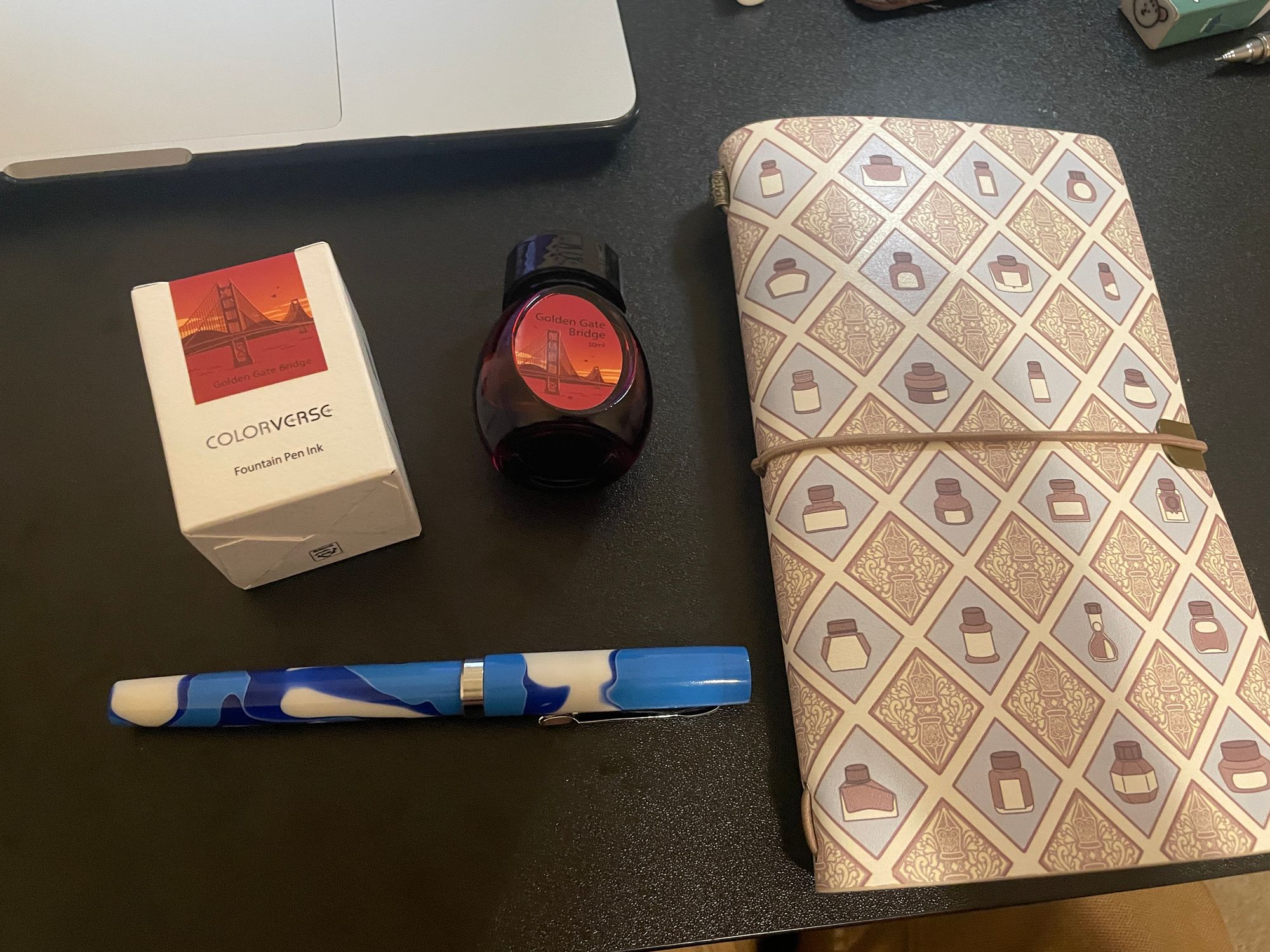 This pen is really interesting. It's surprisingly smooth under normal writing and has a nice, bouncy flex. However, its feed isn't the best, and it's prone to railroading. A lot of railroading. I have it inked up with the special 2023 SF Pen Show ink, and it definitely shows off the ink's shading very well. I plan on reviewing this pen in the future, so please keep a look out! But I'm also quite busy with my college essays, so I'm unsure when it'll come out.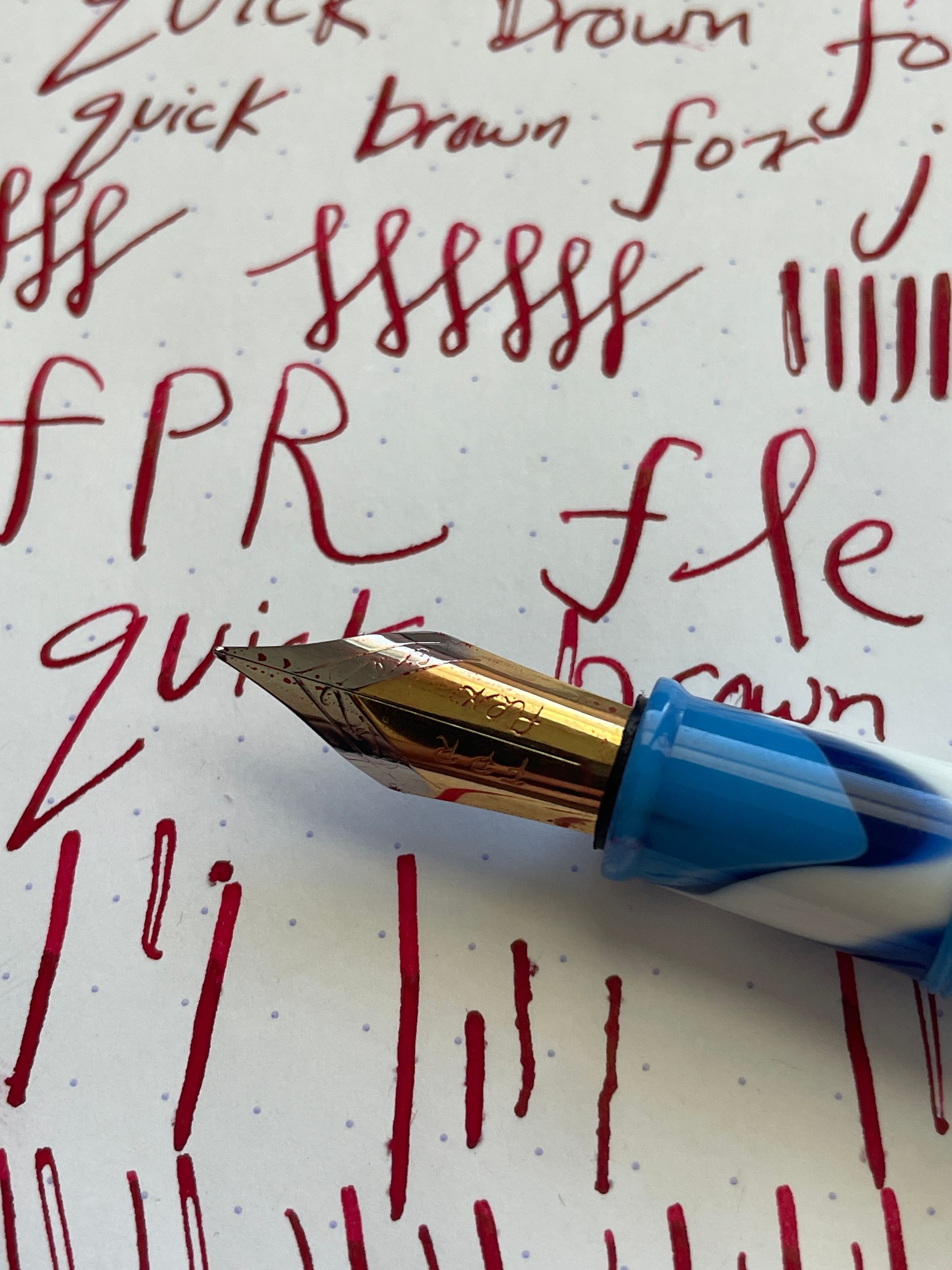 Looking back, I'd consider this trip quite fruitful. I live roughly an hour out of San Francisco, so it wasn't much of a hassle to attend. I'm sure that if I lived further, I would have splurged a little more, but I'm pretty content with what I'm walking away with.
I'm planning on attending next year if my college's schedule permits me to do so. Although the show was quite crowded (even on Sunday!), the atmosphere was so enjoyable, and now I definitely want to come back.
See you next year, SF Pen Show!