Long-Term Review: Rotring 800 Mechanical Pencil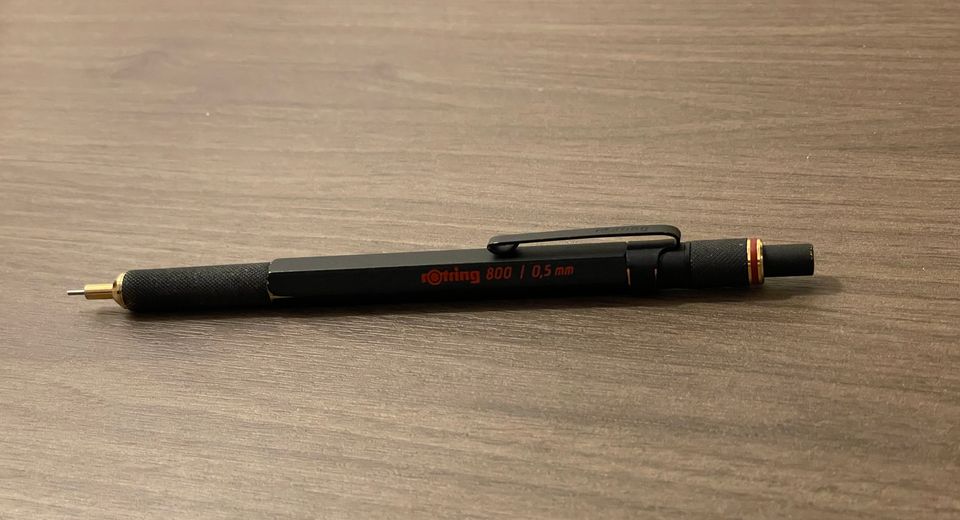 I've been a long-term user of the Rotring 800 mechanical pencil. It's another mechanical pencil in Rotring's classic, well-known, and loved product lineup. The Rotring 800 was also one of my first higher-end pencils — my gateway into the deep world of stationery. Throughout the period of over a year in which I've owned this pencil, I've learned a lot about it that you may not see online. As you can see, My Rotring 800 mechanical pencil is completely beat-up from long-term use in everyday carry (EDC), but I also think this wear is part of its charm.
Disregarding the discontinued Rotring 900, the Rotring 800 mechanical pencil is the top-of-the-line model of Rotring mechanical pencils. Like the extremely popular Rotring 600, the Rotring 800 features an all-metal exterior, but the 800 also adopts flashy brass accents and a retractable nib unit.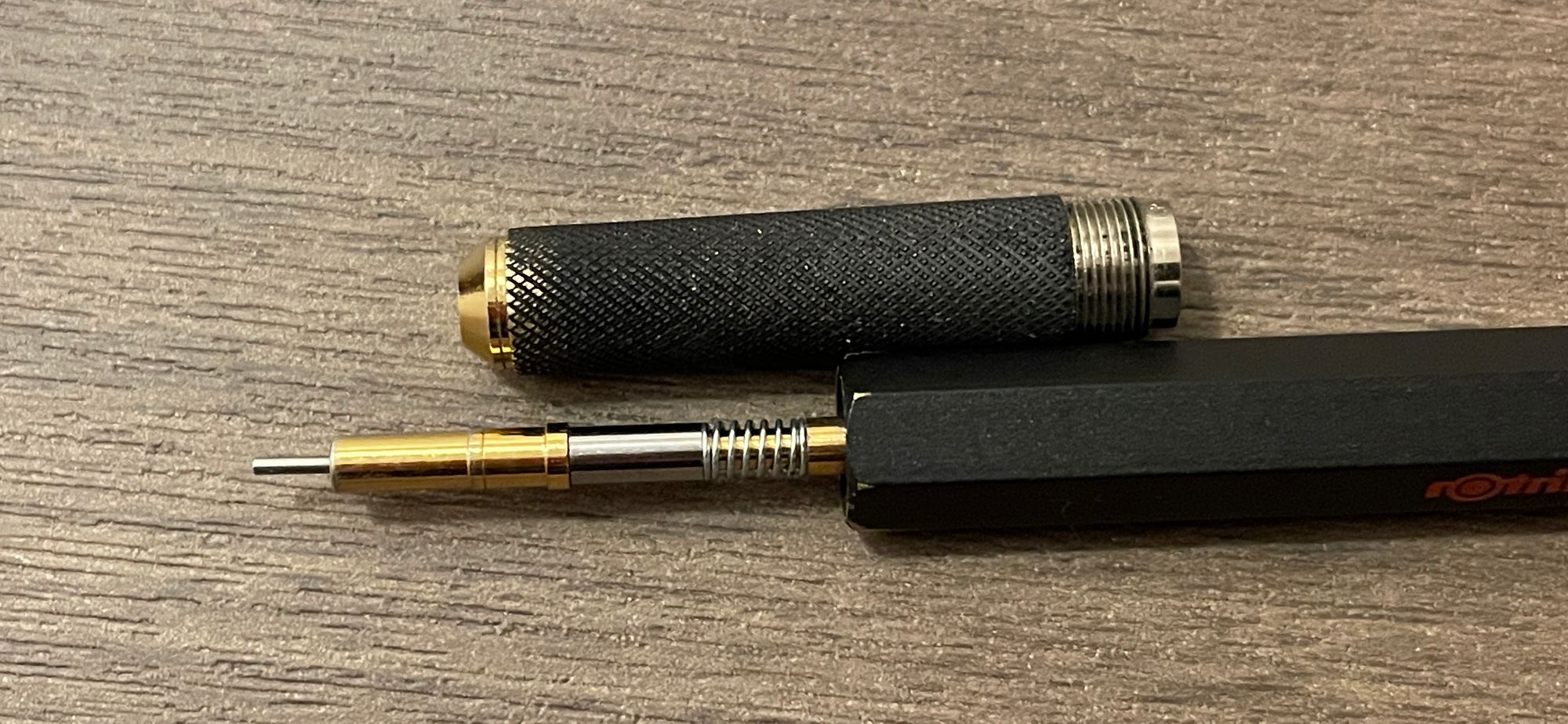 The Rotring 800's mechanisms are designed incredibly well. This mechanical pencil has an all-metal build, even the internal components (unlike the Rotring 600's use of plastic in its mechanism). Resultantly, the Rotring 800 mechanical pencil has (mostly) been able to survive the vicious treatment I've put it through over the time I've had it. Although mine is in pretty bad condition, I'm surprised that it even still works.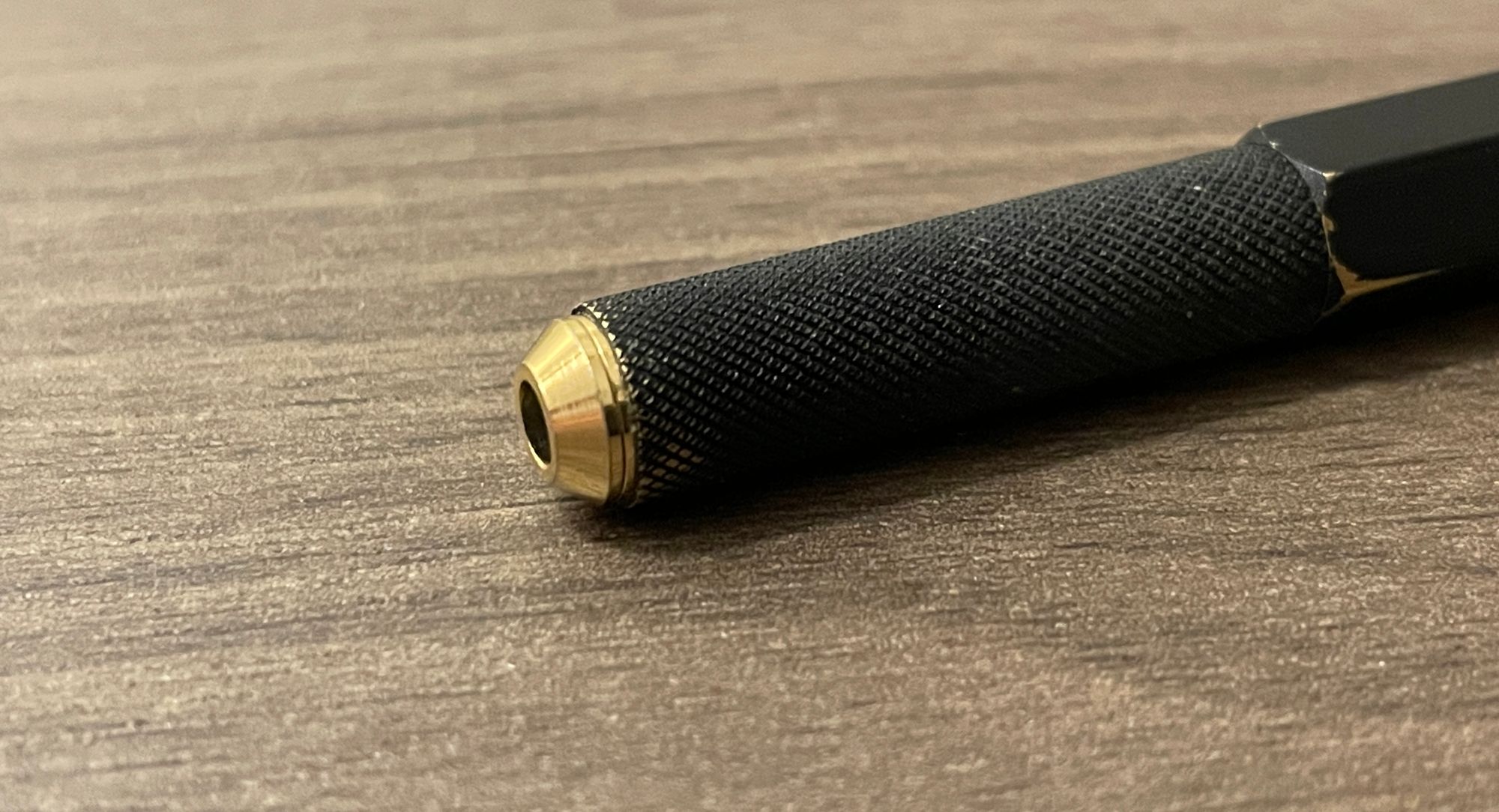 Since owning the Rotring 800, I've dropped it on the nib unit numerous times (yikes!) and scratched the body up in many areas. Because of its fully-metal components, the Rotring 800 mechanical pencil weighs quite a lot. As a result, when you drop this pencil and it lands on the nib, a huge force is applied to the fragile nib and it most likely will bend. However, after I had inevitably damaged the nib, I've been able to fix it and it still works.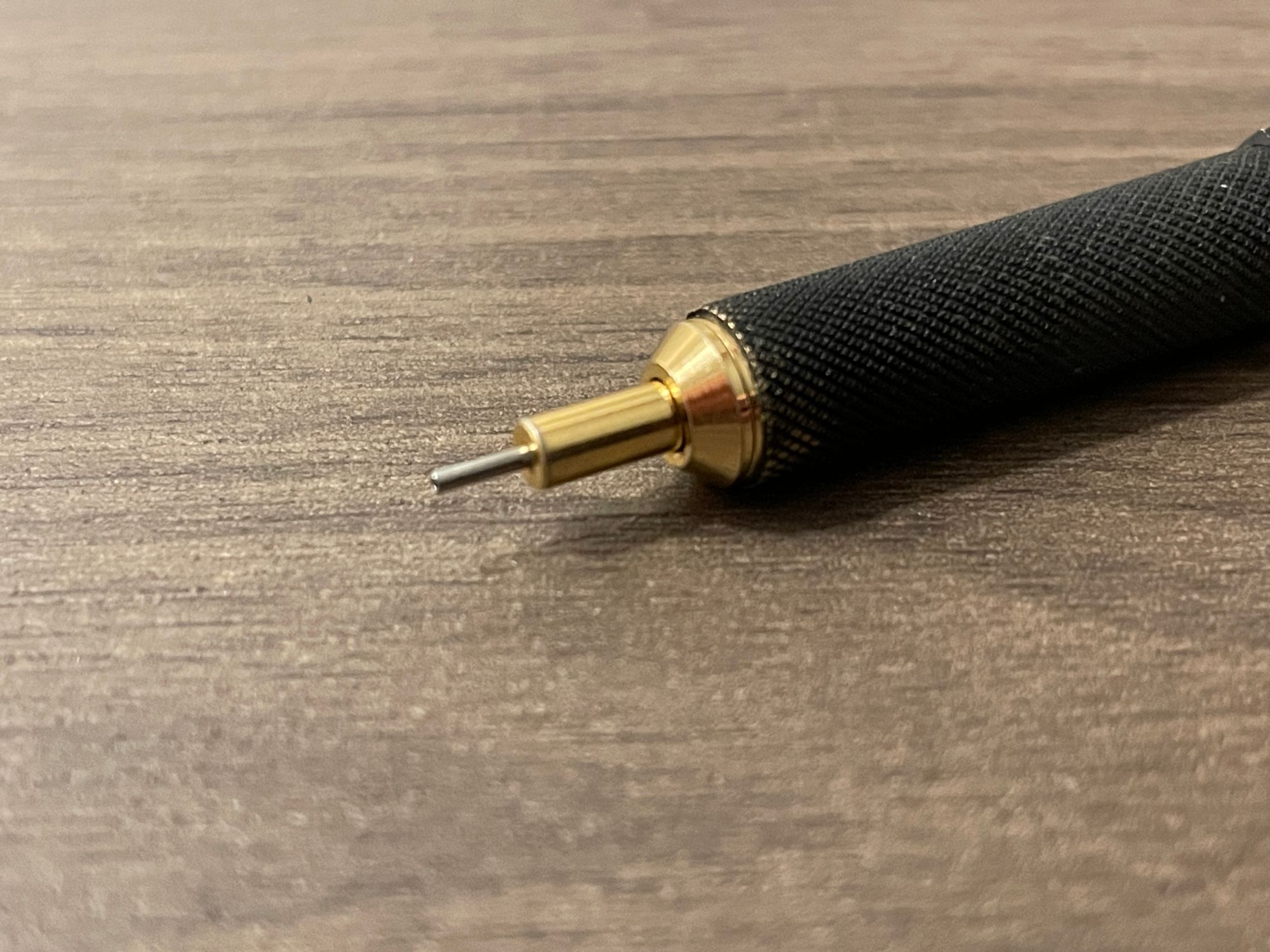 In terms of writing experience, the Rotring 800 is very consistent and lovely to write with. After a first look, it's pretty hard to figure out what you need to do to write with this "mechanical pencil". However, you'll soon figure out that the lead advancement mechanism comes out after twisting the knurling on the cap. It's a firm, smooth mechanism that's extremely fun to fidget with. The clicking is rather quiet, but also very smooth.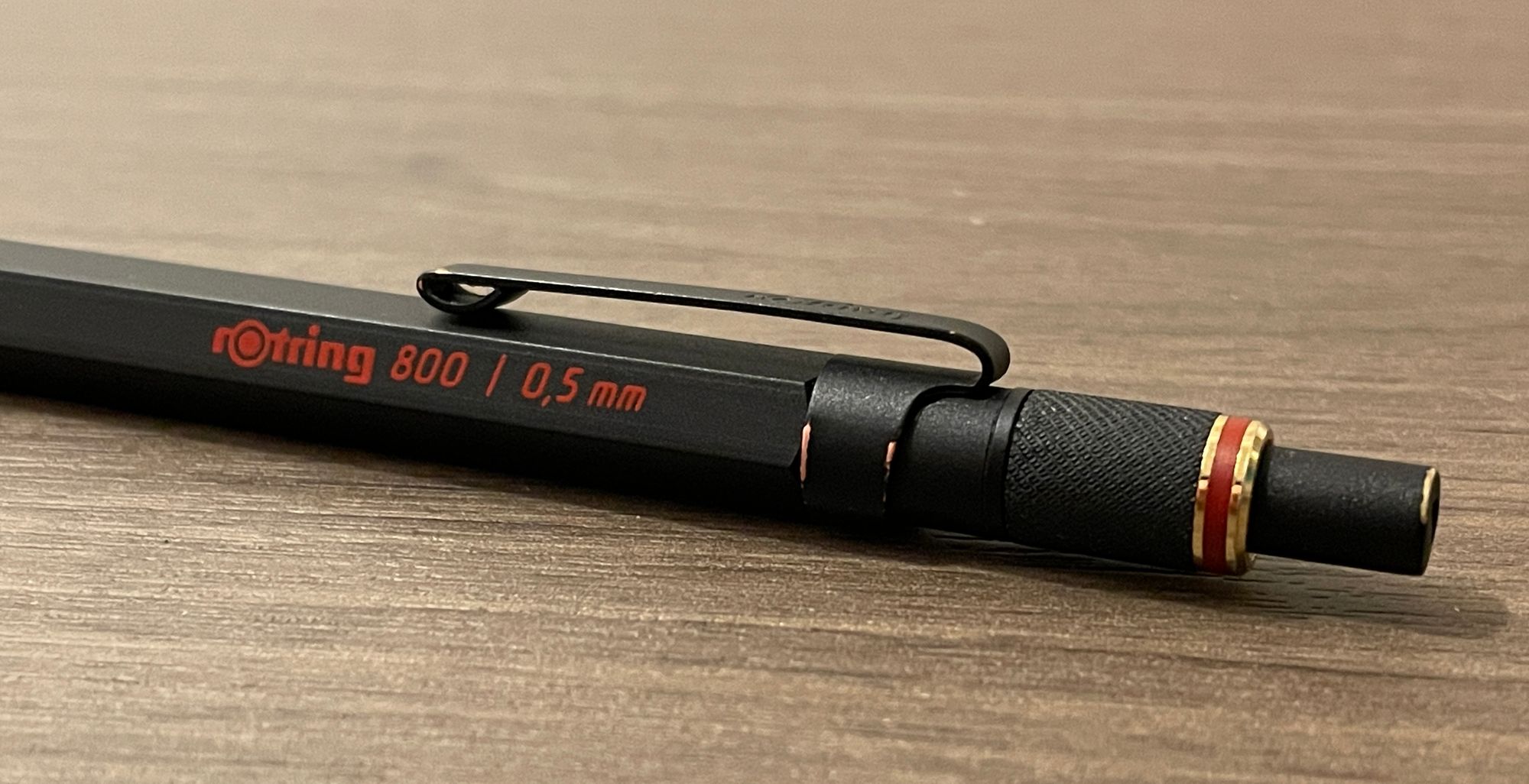 The lead writes smoothly, but after a year and many drops, the pencil has a tendency to "let go" of the lead if you press too hard – that is, the lead would retract back into the mechanism. It's quite annoying and I can't place as much pressure on the pencil nib as I would like, but it still is usable.
I am a huge fan of this pencil. It's one of the highest-quality mechanical pencils I've used and I love using it (hence the major damage I've inflicted on it). Even though I've had problems with this pencil, they've most definitely been a result of my carelessness. A Rotring 800 mechanical pencil that is handled with more care, these scratches and mechanism failures that I've experienced would have not happened.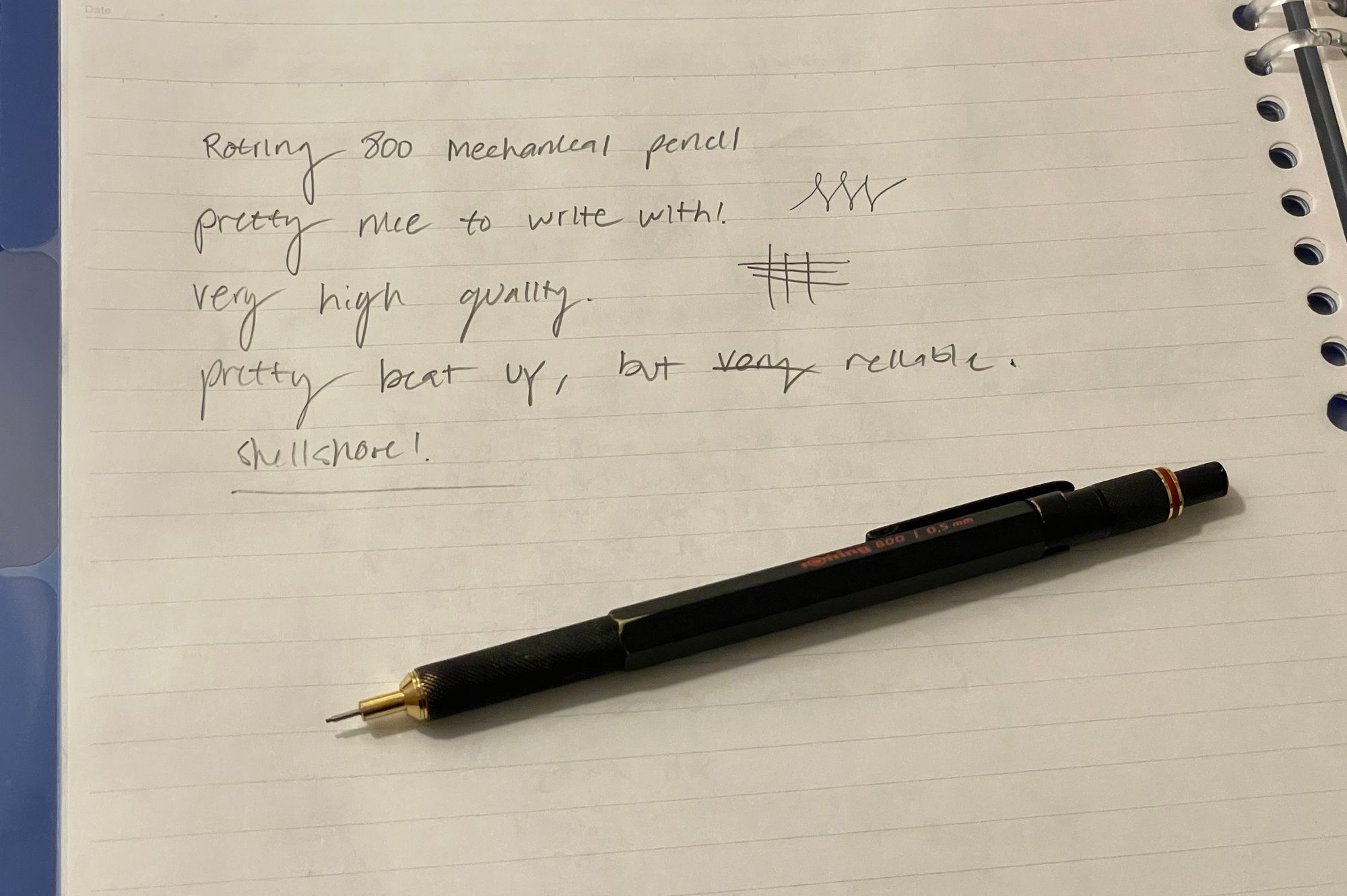 So, after all this time, do I think the Rotring 800 mechanical pencil is worth the high price tag? Well, not really – but if you can find it on sale, then definitely. I've seen retails of the pencil in the range of $60-$100, which is way too much for this pencil. However, if you can find this pencil for ~$40 or under, the Rotring 800 is one of the best purchases you make. It's a great pencil that deserves all the attention that it receives.